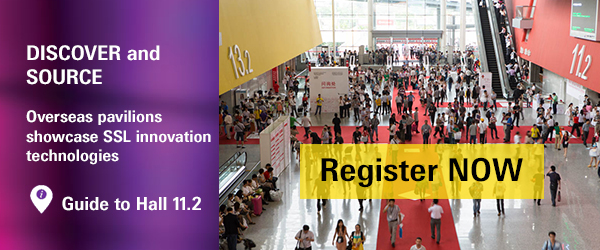 5 Pavilions organised by industry associations
| | | | | | | | | |
| --- | --- | --- | --- | --- | --- | --- | --- | --- |
| | | | | | | | | |
| Taiwan Lighting Fixture Export Associations | | U.S. Department of Commerce | | Korea Lighting Fixtures LED Cooperative | | Japan External Trade Organization & Japan LED Association | | The Hong Kong Electronic Industries Association |
Taiwan Pavilion
| | |
| --- | --- |
| Edition: | 6th edition |
| | |
| Organiser: | Taiwan Lighting Fixture Export Association |
| | |
| Theme: | LED technology in lighting |
| | |
| Features: | A range of LED technologies and applications across the LED value chain will be showcased, including LED residential lighting, chips, packaging, driver ICs and controllers. |
US Pavilion
| | |
| --- | --- |
| Edition: | 6th edition |
| | |
| Organiser: | U.S. Department of Commerce |
| | |
| Theme: | US SSL technologies for sustainable future |
| | |
| Features: | A 2-day seminar about US latest technologies and products for promoting competitiveness of solid state lightings. Products and technologies showcased include LED driver and IC solutions, LED luminaries, test and inspection equipments, LED thermal management materials and optical solutions. |
Korea Pavilion
| | |
| --- | --- |
| Edition: | 3rd edition |
| | |
| Organiser: | Korea Lighting Fixtures LED Cooperative (KLFLC) |
| | |
| Theme: | Korean R&D capabilities for a comprehensive range of applications |
| | |
| Features: | Innovative technologies, namely, Nano-inkjet print technology, test equipment in the fields of spectroscopy and electrochemistry, AC DOB engine module, and other high-performance LED and power modules and LED applications including advertisement and signage, and a wide range of interior and outdoor LED lighting solutions. |
Japan Pavilion
| | |
| --- | --- |
| Edition: | 2nd edition |
| | |
| Organiser: | Japan External Trade Organization & Japan LED Association |
| | |
| Theme: | Japanese innovative technologies for enhancing SSL performance and energy-efficiency. |
| | |
| Features: | It covers LED luminaries which include chandeliers with craftsmanship, specially designed for hospitality industry, silver conductive adhesive materials, test and full-field projection lithography equipment for efficient and low cost LED production. |
Hong Kong Pavilion
| | |
| --- | --- |
| Edition: | 5th edition |
| | |
| Organiser: | Hong Kong Electronic Industries Association |
| | |
| Theme: | Hong Kong Quality LED – Broaden the exposure |
| | |
| Features: | Product groups covered include LED lighting fixtures, retrofit lamps, backlights, architectural lights, commercial lights, construction lights and more. |
2015 Exhibitors' highlights
Some of the exhibitors share their thoughts on future trends in lighting and LED industry.

Any enquiries? We are pleased to serve you
To visit:
Messe Frankfurt (HK) Ltd
Email: light@china.messefrankfurt.com
Contact person: Ms. Scarlet Mak
Tel: (852) 2238 9969
Fax: (852) 2519 6079





IGB - Exhibition Platform for Intelligent Green Buildings in China
Messe Frankfurt has incorporated its eight events on building technology in China to launch the "Intelligent Green Building - IGB" exhibition platform, which aims to provide an inclusive channel for intelligent and green building industries. Topics covered span across the areas of building, lighting and HVAC technology. IGB takes place in Shanghai, Guangzhou and Beijing, providing full coverage across China's key economic hubs.
For more information, please visit: www.intelligentgreenbuilding.cn
| | | | |
| --- | --- | --- | --- |
| | | | |
| Beijing : | | | |
| | | | |
| Guangzhou : | | | |
| | | | |
| Shanghai : | | | |
| | | | |
| | | | |
| | | | |
Show Facts
Fair Date
Venue
China Import and Export Fair Complex
No. 380 Yuejiang Zhong Road, Haizhu District, Guangzhou, China
Organiser
Guangzhou Guangya Messe Frankfurt Co Ltd
Show website
http://light.messefrankfurt.com.cn
Concurrent Event
Guangzhou Electrical Building Technology
225,000 sqm, covering 21 halls

2,621 from 25 countries and regions

Visitors number (2014)
129,885 from 132 countries and regions

Participation fee

| | |
| --- | --- |
| Standard booth package: | RMB 17,000/ 9sqm (min 9sqm) |
| Raw space package: | RMB 1,600/ sqm (min 36sqm) |

Product Groups

| | |
| --- | --- |
| • | Outdoor / Commercial lighting |
| • | Indoor / Decorative lighting |
| • | LED technology |
| • | Electric lights |
| • | Accessories and electronic components |
| • | Light control, management and measurement systems |
| • | Light production and measurement equipment |
| • | Press and publications |

Visitor Profile

Project related buyers
•
Architect
•
Designer
•
Planner / Engineer
•
Property developer
•
Housing / Property management
•
Building contractor
•
Energy supplier
•
Industry end user (e.g. Hotel, Performing arts venue, Shopping mall, Restaurant, etc.)
•
Construction / Planning authorities
•
Procurement authorities
Trade related buyers
•
Importer
•
Exporter
•
Wholesaler / Distributor
•
Buying office
•
Retailer
•
Chain store
•
Department store
•
e-Tailer
•
Association / Media
Manufacturers
•
LED epitaxial wafer
•
LED packaging
•
LED chips
•
LED components
•
Lighting
•
Display