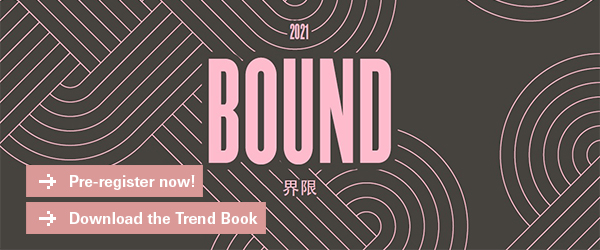 2021 trend forecast presented by the NellyRodi™ Agency
Intertextile Shanghai Home Textiles is glad to cooperate with the renowned international forecasting agency NellyRodi™ from France again this year in presenting the finest comprehension of international home furnishing trends.
The trends are decided by a trend committee led by Nelly Rodi and formed by five top forecasters mixing different fields of expertise including:

| | |
| --- | --- |
| • | Vincent Grégoire – Consumer Trends and Insights Director of the NellyRodi™ Agency (France) |
| • | Shen Lei – Founder and Chief of The Interior Architects Design (China) |
| • | Carlotta Montaldo – Textile Art Cultural Specialist (France) |
| • | Studio NOCC – by Mr Jean-Christophe Orthlieb – Designer (France) |
| • | Juliette Lamarca – Textile Designer / Painter (France) |
2021 lifestyle theme: BOUND
BOUND is the keyword of the season. Three trends – COZY WARMTH, PAST FUTURE and BOLD CLASH – have been developed to illustrate this general design theme.
In a world marked by the proliferation of extremists and polarizations, and where opinions are increasingly radical and irreconcilable; in a context of uncertainty and isolation produced by environmental, economic, societal and identity mutations, we must recreate connections.
COZY WARMTH
When reality feels chaotic, harrowing or oppressive, it's time to tell it differently. Time to repaint life using gentle, caring, cozy, colourful filters. Put kindness back on the essential list. Take care of ourselves and others. Take time out and concoct comfort-cocoons for regenerating. A population of ultra-sensitive souls keeps bad vibes, fake news and haters at bay.
PAST FUTURE
In a dual movement, we look back and reconnect with our origins at the same time as looking forward to a field of infinite possibilities outfitted with the best that technological and space explorations have to offer. Rebuilding the future, without renouncing the past.
BOLD CLASH
Reviving bonds doesn't mean only smoothing out frictions. And on the contrary, some choose to cultivate clash! Not with aggression, but in expression. They cultivate a connection with themselves and others that arouses curiosity, stimulates imagination, expands boundaries, invites us to rethink prejudices and the way we do things, and makes a lasting impression on our minds and times.
Pre-register now and enjoy benefits
| | |
| --- | --- |
| • | Earn onsite cash coupons when you invite colleagues, friends and clients to pre-register |
| • | Free Business Matching service |
| • | Receive a free e-catalogue in advance |
| • | Save your time in on-site registration |

*When registering, please ensure your provided name and ID number matches with your valid travel document.
VIP programme application is open now
Exclusive benefits for eligible trade buyers include:

| | |
| --- | --- |
| • | Two nights of free hotel accommodation during show period (4 star hotel, close to the venue, breakfast included) |
| • | VIP buyer badge with access priority & a welcome kit |
| • | Access to VIP lounge with complimentary refreshments |
| • | Free Business Matching service |

To apply:
Fill in the form and send to Ms Winky Wong by 24 July.
Market information
Stay informed with Intertextile as we follow major industry news and other timely developments on COVID-19.
Useful information at a glance
| | |
| --- | --- |
| Date: | 24 – 26 August 2020 |
| Opening hours: | 09:00 – 18:00 |
| Venue: | National Exhibition and Convention Center (Shanghai), China |
For further details, please contact:
Messe Frankfurt (HK) Ltd
Ms Winky Wong / Ms Jacqueline Chan
Tel: +852 2802 7728
www.intertextilehome.com