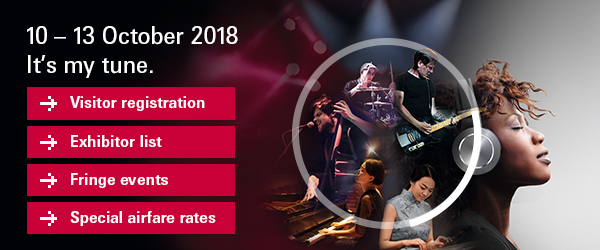 Explore a wide range of musical instruments products at Music China!
The Music China platform provides the very latest musical instrument products first-hand, across the entire. You can extensively explore the hottest products from international well-known suppliers during the four day show in Shanghai, China.
Product highlights
Explore your target exhibitors using the index below!
Agent
Dealers / Distributors
Joint Venture
Retailers
Teachers & Musicians

| | |
| --- | --- |
| | Products that are new or being launched in Asia for the first time |
Featured exhibitor
Company: Conn-Selmer, Inc.



Booth no.: E3C01
Accordions & harmonicas
The P-37E pianica is designed for adults. It has a simple, approachable design, deep, mellow tone, and optimum balance achieved between all ranges(f-f'''), with portable soft case available for purchase.
Yamaha Music & Electronics (China) Co Ltd
Bowed instruments
| | |
| --- | --- |
| VERSUM SOLO VES400 | Austria |

It offers unprecedented possibilities of combining color, sound and texture. These strings were designed for profound power, ideal response and optimal projection! With effortless virtuosity they are poised to enhance the performances of even the most discerning players and cut through any acoustical situation.
Thomastik-Infeld GmbH
New concept resonance platform that increase the sound by 20%. Easy to carry anywhere when closed.
Sigurta' Alberto
| | |
| --- | --- |
| Liuteria Toscana srl | Italy |

We represent a group of Italian Luthiers that produce fine violins, violas, cellos, double basses, baroque instruments and medieval instruments, classic guitars, folk guitars. All instruments are handmade by famous Italian and specially Tuscan Luthiers using high quality woods. High sound quality level.
LIUTERIA TOSCANA S.r.l.

| | |
| --- | --- |
| View more | We are looking for: |
| | |
| --- | --- |
| Violin, viola, cello, bows handmade | Spain |

Violins, violas, cellos and bows handmade in Europe master pieces and high quality instruments.
Diego del Valle - Violin Maker

| | |
| --- | --- |
| View more | We are looking for: |
Electronic and electric instruments
| | |
| --- | --- |
| Digital piano CSP Series | China |

With Yamaha Clavinova CSP digital piano, everyone can play your favorite music right now without any practice.
Yamaha Music & Electronics (China) Co Ltd
| | |
| --- | --- |
| Famous guitars and effectors in the world | Hong Kong |

Handmade boutique guitars from Poland and Japan, many famous foreign effectors, cables, strings, guitar straps and other brands are grandly debuted.
Ficcy International Limited

| | |
| --- | --- |
| View more | We are looking for: |
8+1 touch-sensitive montorized faders with 10-bit resolution. 12 segment LED meter bridge.
ICON ProAudio

| | |
| --- | --- |
| View more | We are looking for: |
| | |
| --- | --- |
| Drum Workstation G9 in co-operation with Drum Workshop DWe components | Germany |

It opens a new chapter in the world of digital drums: Digital USB/PC interface, recording tool, patch bay, mixer, E-Drum brain, touch panel, MP3 player, PDF reader, and multi-effects device all in one. The GEWA Drum Workstation G9 goes further than anything known so far.
GEWA music

| | |
| --- | --- |
| View more | We are looking for: |
| | |
| --- | --- |
| Limited Edition 60th Anniversary Classic Jazzmaster® | China |

The duet of Classic Series'60s Jazzmaster single-coil pickups have the authentic sound that made the Jazzmaster a darling of the underground. Warm and dynamic, they have just the right amount of punch for any music.
Guangzhou FAST Musical Instrument Co Ltd
The RGDIM6FM-CLF comes with a Flamed Maple top above a natural finish Ash body, featuring the highly sought-after "laminated body" look that is popular with today's boutique guitar enthusiasts.
GreatWall Musical Instrument Co Ltd
Fretted and stringed instruments
| | |
| --- | --- |
| Salvi Harps: Since 1955 excellence and reliability to the world | Italy |

When Victor Salvi assembled his first harp, he was already a well-established harpist. A masterpiece of research and craftsmanship, every Salvi harp is manufactured with service from Fiemme Valley, the same precious wood used for Stradivari's violins.
SALVI HARPS - NSM Spa

| | |
| --- | --- |
| View more | We are looking for: |
| | |
| --- | --- |
| Lorenzo Lippi guitars and mandolins: Italian master of lutherie | Italy |

Lorenzo Lippi has been considered as one of the most esteemed Italian luthier, well known for his refined works and the high sound quality of his instruments. Conceived to support the expressivity of every musician and to develop together with him, improve, and constantly evolve with the sound world.
Fabio Bonardi - Luthier

| | |
| --- | --- |
| View more | We are looking for: |
Signature is double tops guitars with non-touch elevator fingerboard, also with double sides too. The design of fingerboard helps the top to move well. This guitar have quick respond and nice balance.
Guangzhou Milestones Luthier Center Co Ltd

| | |
| --- | --- |
| View more | We are looking for: |
| | |
| --- | --- |
| Adam CHAN Guitars from Singapore | Singapore |

Adam CHAN Guitars is described as avant-garde, bold and experimental. Each piece is handmade by Adam himself. His guitars' voice easily etches into the heart of guitar players.
AdamCHAN Guitars

| | |
| --- | --- |
| View more | We are looking for: |
Carter guitar 36" light color butterfly wood veneer qm-862 BD grinding time. Use maple and rosewood to wrap the edge.
Anhui Cate Guitar Factory

| | |
| --- | --- |
| View more | We are looking for: |
40" T-body cutaway acoustic, A grade Engelman solid top, Acacia B&S.
Longsheng Musical Instrument Co Ltd

| | |
| --- | --- |
| View more | We are looking for: |
Music education
Publisher of fun and engaging tutor books for young musicians especially bowed instruments. Ideally suited to group teaching with inspiring backing tracks and supporting materials.
Vamoosh Music Ltd

| | |
| --- | --- |
| View more | We are looking for: |
| | |
| --- | --- |
| Smart violin training solution | South Korea |

Violin learning always requires repetitive practice. The technology of Jameasy turns a tedious practice into a fun experience. Play your favorite song with rhythm-game-like effects to efficiently improve your skill. Play your instrument right with a real-time feedback on the screen.
Jameasy Inc

| | |
| --- | --- |
| View more | We are looking for: |
Percussion instruments
| | |
| --- | --- |
| Multi-scale & electro-acoustic Beat Root tongue drum | France |

It is a new steel tongue drum all made in France featuring electro-acoustic and tunable options. It provides six different scales into one instrument and comes with a microphone and 6.3mm jack for endless possibilities. High quality manufacturing and attractive price.
ACSE (Beat Root)

| | |
| --- | --- |
| View more | We are looking for: |
| | |
| --- | --- |
| Brand-new Gearless cymbal boom stand | Taiwan |

Tube:1.1 inch, 4*16mm four legs double-brace. Saddle type seat-top, new solid clamptype secure structure, big steel plate over the seat-top.
Wey Shine Musical Instrument Co Ltd
Pianos and keyboards
| | |
| --- | --- |
| Harpsichords, fortepianos, spinets, clavichords | Germany |

Manufacturer of historical keyboard instruments.
J.C. NEUPERT GmbH & Co KG

| | |
| --- | --- |
| View more | We are looking for: |
Through 170 years of Seiler piano craftsmanship – four generations' unremitting efforts, every Seiler has unique transparent sound, perfect tone which is known to the world as Seiler characteristics.
Seiler Samick Musical Instrument (Shanghai) Co Ltd
High quality Soundboards for upright and grand piano.
Holzwerke Strunz GmbH & Co KG
| | |
| --- | --- |
| Studio Numa Compact 2: big sound in a compact size | Italy |

In a compact and lightweight cabinet we have integrated a new technology derived from high quality professional keyboards. Numa Compact 2 is a big step forward in terms of sound quality, digital post processing effects and MIDI controller features. The built-in speakers and the internal digital amplifier makes it suitable for any musical environment.
FATAR SRL

| | |
| --- | --- |
| View more | We are looking for: |
BRUNO fulfill a piano dream of a child!
Shanghai Zhua Ying Culture Communication Co Ltd

| | |
| --- | --- |
| View more | We are looking for: |
Sheet music
A high-quality complete edition with 23 volumes in three slip cases containing the complete cantatas, oratorios, passions, motets and masses in modern Urtext editions geared towards historically informed performance practice. Anyone who is involved with Bach's music will benfit from browsing through and studying this edition in a reader-friendly format.
Carus-Verlag
| | |
| --- | --- |
| Hungarian Rhapsody No 2 | Hungary |

It is a piece that has acquired extraordinary popularity, was written down by Liszt in 1847 in Romania and was published in 1851. The present edition is a preface summarizing the latest findings of research, facsimile reproductions, and critical notes.
Edito Musica Budapest Zenem Kiado Ltd

| | |
| --- | --- |
| View more | We are looking for: |
Woodwind and brass instruments
| | |
| --- | --- |
| Street Oryan / House Organ / Barrel organs | Germany |

Barrel organs are an old European tradition. They were used as house musical instruments as well as for medial purpose to calm and relax the whole body. Our instruments are also suitable for all conceivable advertising measures and amusement parts.
DELEIKA GmbH

| | |
| --- | --- |
| View more | We are looking for: |
| | |
| --- | --- |
| F.Arthur Uebel Clarinets | Germany |

NEW Superior II A-Clarinet, NEW Excellence A-Clarinet, NEW B/A Clarinet 638 (German system), NEW G_Clarinet 421 (German system)
F. Arthur Uebel GmbH

| | |
| --- | --- |
| View more | We are looking for: |
| | |
| --- | --- |
| Light Tenor Case / GLQ-T | Taiwan |

ABS extereior material with black color. PC exterior material with hair line pattern in grey color. The case uses hasps instead of zipper for closing. It is a light and portable case.
GL Cases Ind Co

| | |
| --- | --- |
| View more | We are looking for: |
| | |
| --- | --- |
| Clarinet Bulgheroni Gordèe | Italy |

Atelier Bulgheroni supported our long tradition of the Bulgheroni's Family. We make clarinet Bb and E, our target is to improve the homogeneity and the quality of the sound.
Atelier Bulgheroni

| | |
| --- | --- |
| View more | We are looking for: |
| | |
| --- | --- |
| Saxophone 900 series limited deluxe engraving models | Taiwan |

The excellent brass material with high quality Italian pads. The body with rich gold lacquered and un-lacquered selection. The characteristic is the deluxe artist handmade engraving.
Coming Musical Instruments Co Ltd

| | |
| --- | --- |
| View more | We are looking for: |
Accessories and others
A Music stand that you can control the stems friction from the top of the Stem. It has a quick release tray and is the most affordable stand of its kind in the world!
RATstands Ltd
NYXL strings are designed for comfortable playability and an ideal electric tone.
D'Addario Shanghai Trading Company
| | |
| --- | --- |
| Maloney StageGear Drum Cover | USA |

The Maloney StageGear Drum Cover deflects the sun's heat and UV rays. It is reversible to use with either silver side or black side. The weighted corners add stability and allow the cover to fold easily and also include grommets for securing the drum cover. It is water repellent.
Maloney StageGear Covers
| | |
| --- | --- |
| Keyboard accessory tray | China |

Accommodates small mixers, drum machines, synth modules, effect pedals, small speakers, and more.
The Music People Inc.

| | |
| --- | --- |
| View more | We are looking for: |
| | |
| --- | --- |
| GEWA Air Diamond violin case | Germany |

We searched for a new modern look that focused on a younger generation. The upper shell is covered with a special Hi-Tec material that gives the case a very unique and elegant appearance with a 3D effect. It is the best protection for your instrument.
GEWA music

| | |
| --- | --- |
| View more | We are looking for: |
Contact us
Messe Frankfurt (HK) Ltd
Ms Angela Lau
| | |
| --- | --- |
| Tel: | +852 2230 9230 |
| Fax: | +852 2519 6079 |
| Email: | music@hongkong.messefrankfurt.com |