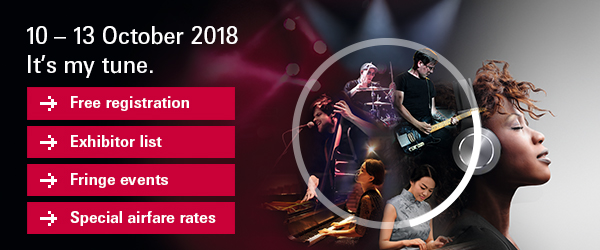 Source over 2,100 suppliers in the musical kingdom of Music China
This is your opportunity to participate in Asia's most reputable music trade event, and prepare yourself for the most "wow" edition ever of Music China. Explore over 2,100 global suppliers across 138,000 sqm of exhibition space in 12 halls with a wide-ranging product display. Come and join us now!
Our comprehensive exhibitor search has now launched!
With Music China's easy-to-use exhibitor search system, you can search for right partners with just one click. Plan your meeting schedule during Music China ahead of time.
Product highlights
Explore your target exhibitors using the index below!
Agent
Dealers / Distributors
Joint Venture
Retailers
Teachers & Musicians

| | |
| --- | --- |
| | Products that are new or being launched in Asia for the first time |
Featured exhibitor
Company: Conn-Selmer, Inc.



Booth no.: E3C01
Bowed instruments
| | |
| --- | --- |
| Signature is the new premium line from Hagen | South Korea |

The instruments are made exclusively from high quality alpine woods from Italy and Bosnia. The wood was stored with the latest natural wood drying technologies for years to achieve the best sound. Our instrument will accompany you for many years.
Atelier Hagen

| | |
| --- | --- |
| View more | We are looking for: |
| | |
| --- | --- |
| Ebony, Blackwood, Rosewood, Maple for violins and guitars | Germany |

Company is in family tradition size for 3 generations. We provide wood for musical instruments: ebony for string instruments, guitars, fingerboards, piano. Blackwood for clarinets, oboes flutes, piccolo. Indian, Madagascar rosewood for guitar, fingerboards. Snakewood for bows. Finished ebony fingerboards in quality made in Germany for all string instruments.
Karl Klier & Co
We make fingerboards for violin, viola, cello and bass. They are made of Ebony and Rosewood for guitar fingerboards. We use best aged, seasoned, straight grain, zed black ebony wood for making instruments fingerboards.
Pentacle

| | |
| --- | --- |
| View more | We are looking for: |
| | |
| --- | --- |
| Violin 4/4 model Stradivari | Bulgaria |

Master violin model Stradivari, handcrafted from Balkan tonewood.
Petkov Violins Ltd

| | |
| --- | --- |
| View more | We are looking for: |
| | |
| --- | --- |
| Edgar Russ, the finest Cremonese sound | Italy |

As master instrument which was choosen as the best by seven musicians of Vienna Philharmony! Macchi line is excellent instrument handmade in Cremona. Scala perfetta with european made, inspected, refinished, varnished and set up in workshop in Cremona for demanding beginners.
Sound of Cremona srl

| | |
| --- | --- |
| View more | We are looking for: |
Electronic and electric instruments
Enter the Ampeg Micro-CL Stack, with a full 100 watts of pure Ampeg tone in Micro format it's perfect for all those times you need your Ampeg fix but need to rein it in a little. Or if you're just getting into Ampeg and can't quite fit an 8x10" in the spare room.
GreatWall Musical Instrument Co Ltd
| | |
| --- | --- |
| VERVE Stellar guitar | Greece |

Αll the qualities of a 60's strat type guitar. Vintage sound, vibe & feel and modern look. It is a perfect Vintage-Modern instrument customized to your own taste and needs!
Sideradis & Co EE

| | |
| --- | --- |
| View more | We are looking for: |
| | |
| --- | --- |
| Electronic Drum DTX402 Series | China |

The moment you play the DTX is the moment you become a drummer. Let it be your inspiration and give instant expression to your impulses and creativity. DTX402 is the culmination of the commitment Yamaha makes as a drum manufacturer with excellent design and sound quality.
Yamaha Music & Electronics (China) Co Ltd
Fretted and stringed instruments
| | |
| --- | --- |
| DeerRidgeGuitars.com | Taiwan |

DeerRidge Guitars is born out of the desire of professional instruments by musician, for musicians, at affordable ranges. Having learned from master builder like John Carruthers, the legendary luthier in southern California, our team is passionate and committed to build guitars with vintage tone and modern playability!
DeerRidge Guitars

| | |
| --- | --- |
| View more | We are looking for: |
Maggie Time series of high quality guitar, good sense of string pitch, good timbre, a guitar with story, you deserve it!
Guangzhou Gejue Musical Instruments Co Ltd

| | |
| --- | --- |
| View more | We are looking for: |
All solid Acacia, with pearl inlay work. Special fingerboard design with dual-tone pickups. Every "MauloA" product will be guaranteed to use selected materials, with ingenuity design and perfect handwork.
Guangzhou Taiyuan Musical Co Ltd

| | |
| --- | --- |
| View more | We are looking for: |
The P-800C/S/F is the top single model in Delicate of Gufra guitar. It is a highly cost-effective concert guitar.
L. Luthier Sdn Bhd
| | |
| --- | --- |
| Tonewood from all around the world | Germany |

We supply well stored and aged Tonewoods from all around the world. Best quality, best price, best service!
Logemann & Waibel OHG

| | |
| --- | --- |
| View more | We are looking for: |
SHUBB | China's 10th Anniversary Model.
Qingdao Bei Fang Yuan Musical Instrument Co Ltd

| | |
| --- | --- |
| View more | We are looking for: |
Percussion instruments
| | |
| --- | --- |
| Kids' costume for music parade | Japan |

Colorful and professional costumes make the music parade more attractive.
Nippon Parade Corporation

| | |
| --- | --- |
| View more | We are looking for: |
Odery drums Brazil is a high end drum brand that produce the best quality of drums in the world.
Odery Drums Brazil

| | |
| --- | --- |
| View more | We are looking for: |
| | |
| --- | --- |
| Xylophones 1000 with undestructible premium sound wood | Germany |

Xylophones with undestructible bars with the sound of a premium wood and the advantage for constant pitch over its lifetime and in changing climates.
STUDIO 49 Musikinstrumentenbau GmbH

| | |
| --- | --- |
| View more | We are looking for: |
Pianos and keyboards
| | |
| --- | --- |
| Abel Hammerheads for grand and upright piano | Germany |

Abel Hammer company is the specialist in customer-oriented hammerheads. The best qualities of felt and the finest timber guarantee a superb tone and high variation feeling for the pianist. In cooperation with each piano manufacturer, the Abel Hammer Company develops an individual hammerhead type by using the best available materials.
Abel Hammer Company
| | |
| --- | --- |
| Cristofori grand piano C146N, one piano 3 Cities | Singapore |

The new era of grand piano combining the 3 international artisan approach. Combined nearly half a century of expertise across 3 nations – Singapore, China and Germany. Full powerful resonant tone, in the most compact size. Cristofori C146N professional grand piano gives you the sound that unlock your musicality.
Cristofori Music (Singapore) Co Ltd

| | |
| --- | --- |
| View more | We are looking for: |
| | |
| --- | --- |
| Hidrau model - technological piano bench Hidrau Tech | Spain |

We can consider it the best piano stool in the world! After several years of effort and investment in research and development, we have created this innovative system with the goal to facilitate the piano stool adjustment in height in an automatic way without any effort.
Hidrau Model, S.L.

| | |
| --- | --- |
| View more | We are looking for: |
| | |
| --- | --- |
| Upright and grand piano action, hammerheads and tools for repairs | Germany |

Actions and hammers are sound defining components of the inner world of a grand or upright piano. They are the communicative link between the pianist and his instrument.
Louis Renner GmbH & Co KG
Germany's Koblenz piano entered China, adhering to the spirit of German high-quality manufacturing, developed dozens of core agents, and brought a deep return to the partners.
Shanghai Ying Bu Musik Instrument Co Ltd

| | |
| --- | --- |
| View more | We are looking for: |
| | |
| --- | --- |
| Hybrid Piano TransAcoustic | China |

An acoustic piano with volume control, or a digital piano with strings? Yamaha's latest development stretches the imagination and opens up a whole new world of possibilities.
Yamaha Music & Electronics (China) Co Ltd
Sheet music & publishers
| | |
| --- | --- |
| ABRSM 2019-2020 Piano Syllabus | United Kingdom |

ABRSM is pleased to introduce the 2019-20 Piano Syllabus, featuring completely new repertoire from classical favorites to new arrangements and commissions. The syllabus is supported by a range of books (English and Chinese), apps and teacher support resources – visit us on stand E3D38 in Hall E3 to learn more!
ABRSM

| | |
| --- | --- |
| View more | We are looking for: |
| | |
| --- | --- |
| Foundation for superior performance | China |

This method book helps to organize the daily rehearsa, which includes Scales, Technique, Chorales and Tuning Exercises.
JC Link Company
| | |
| --- | --- |
| Supra 120, 41/120/IV/11/5 | Germany |

The Supra is a fascination of sound with the typical "Weltmeister" cassotto - a premium product. Being a highly professional instrument, Supra is an instrument with a powerful sound.
Weltmeister Akkordeon Manufaktur GmbH

| | |
| --- | --- |
| View more | We are looking for: |
Woodwind and brass instruments
| | |
| --- | --- |
| Little Dragon-ZO travel tuba | China |

Little Dragon is an exciting new and innovative design that boasts fantastic intonation and a powerful, precise sound at a fraction of the size and cost of a normal tuba. It is incredibly versatile creature and is perfect for practicing, performing, and travelling.
Hebei Zheng Ou Industrial Co Ltd

| | |
| --- | --- |
| View more | We are looking for: |
| | |
| --- | --- |
| NEW RELEASE Forestone Saxophone RX Serials from Japan | Hong Kong |

Forestone RX, the oldies rolled tone holes style brings more powerful force to the saxophone and produce a different timbre & volume of sound. Plus FCTV process and handcraftsmanship by Atsushi Watanabe which fulfills highest Japanese quality standards and offers a unique sound and best manufacturing quality.
Music Plus Limited

| | |
| --- | --- |
| View more | We are looking for: |
| | |
| --- | --- |
| Pearl Flutes 50 Years of Innovation | Japan |

Pearl Flutes began 50 years ago as a small group of talented craftsmen with the desire to create instruments of the highest quality and performance. Celebrating 50th anniversary with the limited Cantabile and Quantz models.
Pearl Musical Instrument Co

| | |
| --- | --- |
| View more | We are looking for: |
| | |
| --- | --- |
| Saxophone neck for Mark VI | Taiwan |

Neck for Mark VI and replace old neck to increase your Mark VI value & sound. 2 USA patents with solid structure. Change your horn, change your sound and change your life.
Soar Hi-Q International Co Ltd

| | |
| --- | --- |
| View more | We are looking for: |
Accessories and others
| | |
| --- | --- |
| Kirlin Premium Plus IWB-Wave series instrument cable | China |

Kirlin has most recently added the Premium Plus Wave to their Premium Plus Instrument Cable Collection. The Premium Plus Wave comes in seven vibrant colors, enabling users to stand out among the rest.
Changzhou Kirlin Cable Co Ltd

| | |
| --- | --- |
| View more | We are looking for: |
Metronomes.
Seiko Instruments (Shanghai) Inc
Contact us
Messe Frankfurt (HK) Ltd
Ms Angela Lau
| | |
| --- | --- |
| Tel: | +852 2230 9230 |
| Fax: | +852 2519 6079 |
| Email: | music@hongkong.messefrankfurt.com |