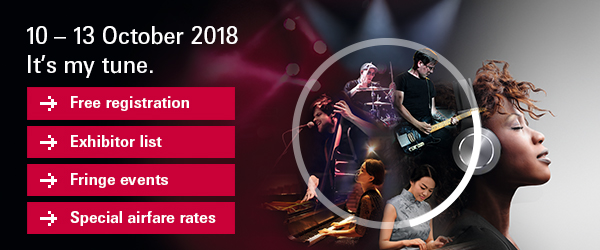 Connect with the world's music leaders at Asia's no. 1 MI industry trade show
At Music China 2018, you will meet over 2,100 key manufacturers from the entire musical instruments industry. With an expanded exhibition area covering 138,000sqm, more high quality and unique products can be explored than ever before. Be our guests and join us in discovering your ideal destination to amplify your business. You don't want to miss out!
Product highlights
Explore your target exhibitors using the index below!
Agent
Dealers / Distributors
Joint Venture
Retailers
Teachers & Musicians

| | |
| --- | --- |
| | Products that are new or being launched in Asia for the first time |
Featured exhibitor
Company: Conn-Selmer, Inc.



Booth no.: E3C01
Accordions & harmonicas
Cooperfisa was founded since 1921. Mahogany wooden box, deep and rich sound, giving musical instruments a high musical performance, dedicated to concerts and jazz music.
Wei Sun International Accordion Trade
Bowed instruments
| | |
| --- | --- |
| English hand finished range of violins, viola & cello | UK |

The first commercially made English violin since 1939. The region of Wessex has its own claim to English violin making heritage. The Wessex Violin Company is based nearby on Salisbury Plain. Visit us to view our range and the resurgent art of the English violin.
The Sound Post Ltd

| | |
| --- | --- |
| View more | We are looking for: |
Collection Fernambuk-Gold: Meisterbogen Egidius Dörfler. For violin, viola, cello, bass. It is first class pernambuco stick in round or octagon, best ebony frog. Single or parisian eye and three-part ebony button with eye. With gold wire winding.
Doerfler Bows

| | |
| --- | --- |
| View more | We are looking for: |
| | |
| --- | --- |
| Bertrand-Yves DELISLE, violinmaker in Cremona | Italy |

A master violinmaker in Cremona, he builds string quartet instruments inspired by and faithfully following the traditional models of the Italian violinmaking school from 1500 to 1800.
DELISLE Bertrand-Yves

| | |
| --- | --- |
| View more | We are looking for: |
| | |
| --- | --- |
| New steel and synthetic concert strings "Ouverture" Galli Strings Italy | Italy |

Rope, steel or synthetic core wound in metal for a great sound; ouverture concert strings by Galli Strings Italy for violin, cello, double bass and viola.
Galli Strings S.r.l.

| | |
| --- | --- |
| View more | We are looking for: |
| | |
| --- | --- |
| Master violin by Erli Gurra | Albania |

Master instrument handcrafted in the old traditional way like the great violinmakers of Cremona. Using the best wood, old and well seasoned, and all the knowledge from the old masters to fulfill the needs of a professional musician. Heartmade instruments with soul voice.
Erli Gurra

| | |
| --- | --- |
| View more | We are looking for: |
Electronic and electric instruments
| | |
| --- | --- |
| Audio Interface UR-RT Series | China |

The premium UR-RT series provides high-speed USB 2.0 connectivity and comprises the UR-RT2 and UR-RT4 mobile interfaces with switchable Rupert Neve Designs input transformers.
Yamaha Music & Electronics (China) Co Ltd
| | |
| --- | --- |
| Schertler amplifier | China |

The new JAM is an exceptional amplifier with all features in order to improve the acoustic guitar sound; useful in any situation (live or studio), this is a product that is unique in its kind. Simply essential for any guitarists looking for an uncompromising vibrant tone.
Innovox Distribution Co Ltd

| | |
| --- | --- |
| View more | We are looking for: |
| | |
| --- | --- |
| XM-200S module kits | Taiwan |

Power up your digital drumming experience! XM eDrum's brand new 200S module kits offer improved sounds and functionality, including more hi-hat levels, drum head velocities corresponding to the strength you play, and an individually adjusted EQ for each drum. You'll feel empowered to play the coolest beats possible!
XM Enterprise Co Ltd

| | |
| --- | --- |
| View more | We are looking for: |
Powerful controller is equipped and easy setup with Mackie Control and HUI protocol. Backlit LED touch fader reacts in real-time with DAW.
ICON ProAudio

| | |
| --- | --- |
| View more | We are looking for: |
| | |
| --- | --- |
| GEWA Digital Pianos UP 400 and 300 Series | Germany |

The brand new GEWA Digital Pianos of the 300 Series and the top of the line GEWA UP 400 Digital Piano combine the concentrated expertise in technology and instrument-making of the region of Vogtland. In close cooperation with one of our key partners, we manufacture the technical components for the GEWA Digital Pianos to the level of automotive industry standards. All features of GEWA Digital Pianos will be presented by Mark Moody.
GEWA music

| | |
| --- | --- |
| View more | We are looking for: |
| | |
| --- | --- |
| Eric Johnson Thinline Stratocaster® | China |

Eric Johnson Stratocaster Thinline is a lightweight, resonant instrument that combines semi-hollow alder body and traditional Stratocaster contours and tone.
Guangzhou FAST Musical Instrument Co Ltd
Fretted and stringed instruments
| | |
| --- | --- |
| The new Hofner 500/1 Relic Bass | Germany |

The famous Hofner 500/1 Violin Bass now available in a relic model. Completely hand finished in our workshop by our award winning lacquer master. Four models available.
KARL HOEFNER GmbH & Co KG
Manufactured in Germany. Made by German spruce veneer, Indian rosewood side, with a bright sound.
Mingde Musik Ltd

| | |
| --- | --- |
| View more | We are looking for: |
| | |
| --- | --- |
| Teodoro Perez guitars | Spain |

Family company dedicated to the construction of classical and flamenco guitars by handcraft way since 1966.
Teodoro Perez Guitars

| | |
| --- | --- |
| View more | We are looking for: |
Altamira delicated to develop, make and sell high-end, spanish tranitional handcrafted classical guitars and acoustic / jazz guitars. And we got full range of models for selection. Our products have been exported to other countries all over the world.
Guangzhou Altamira Musical Instrument Co Ltd

| | |
| --- | --- |
| View more | We are looking for: |
| | |
| --- | --- |
| Rosewood substitute | Serbia |

Cheap and quality rosewood substitute: European walnut steamed is great replacement for rosewood fingerboards and back and sides. Walnut fingerboards and back and sides will give stylish appearance to your acoustic or electric guitar at low price.
Tesla ToneWood Serbia

| | |
| --- | --- |
| View more | We are looking for: |
Music education
| | |
| --- | --- |
| Geoffrey Faber Holdings/Faber Music, sheet music publisher and distributor | UK |

Geoffrey Faber Holdings/Faber Music Ltd was founded in 1965 and has a world-wide reputation as one of the leading independent British sheet music publishers. Our award-winning distribution business prides itself on achieving first-rate delivery and customer service standards.
Faber Music/FM Distribution

| | |
| --- | --- |
| View more | We are looking for: |
| | |
| --- | --- |
| Educational Musical Instruments | Korea |

Dabell is leading the manufacture of educational musical instruments obtaining a large market share in Korea. And we specialize in manufacturing musical instruments such as harmonicas, glockenspiels, recorders, melodyhorns, etc
Dabell Co Ltd

| | |
| --- | --- |
| View more | We are looking for: |
| | |
| --- | --- |
| Drumbox music education national chain company | Hong Kong |

Drumbox (Hong Kong) music education national chain company was established in 2007. After 11 years of accumulation, Drumbox BPP education system covers from the basic to the professional learning.
Drumbox Music Education National Chain

| | |
| --- | --- |
| View more | We are looking for: |
Percussion instruments
| | |
| --- | --- |
| Orff Xylophone Set | Taiwan |

The Orff Xylophone Sets with replaceble bars, that were made of legally selected African hardwood. Sanding and tunning by our experiencd carpenters, optional order of height adjustable stand providing you a premuim sound quality.
Hau Sheng Wooden Instrument Co Ltd

| | |
| --- | --- |
| View more | We are looking for: |
| | |
| --- | --- |
| ML52HZBN2-SBV/SSV/FBV | China |

New drum setup comes with 9"x14" Duo snare, which can function as a low/deep snare with the snare wires engaged, or as a 14" floor tom with the snares off.
GreatWall Musical Instrument Co Ltd
Pianos and keyboards
Samick's 60th anniversary upright piano combines 60 years of technology, marvelous tone work, traditional and modern design works. This is how Samick is recognized to the world of musicians.
Seiler Samick Musical Instrument (Shanghai) Co Ltd
| | |
| --- | --- |
| Limited edition of PETROF upright pianos | Czech Republic |

PETROF introduces variegated models of standard upright piano with black high-gloss finish. Distinctive feature of these instruments is the strip of the exotic wood veneer inserted on the front panel. Our designers used veneers of walnut root and tiger wood, which are highly appreciated for their outstanding and unique pattern.
PETROF, spol. s r. o.

| | |
| --- | --- |
| View more | We are looking for: |
| | |
| --- | --- |
| Upright Piano YUX/YAX/YDX | China |

The player-centric design brings you more contagious sound, more balanced feel, and more comfortable playing experience.
Yamaha Music & Electronics (China) Co Ltd
| | |
| --- | --- |
| Viscount Unico 800, the unique organ | Italy |

The English translation of the Italian word 'UNICO' is 'unique', in fact only Unico 800 Viscount organ, is capable to offer a superb organ sound in a majestic cabinet equipped with physical modelling sound generator powered by the state of the art of hardware and software technology.
Viscount International S.p.A.

| | |
| --- | --- |
| View more | We are looking for: |
Sheet music
| | |
| --- | --- |
| Selected Piano Pieces | Hungary |

This single-volume collection comprises Bartók's two Scarlatti volumes, complete with an editorial preface, his detailed performing instructions, and his commentary. The editor recommends these compositions for pianists with at least five years' experience, and give practical recommendations for the grouping of individual items to form charming "sonatina-like" sets of pieces.
Edito Musica Budapest Zenem Kiado Ltd

| | |
| --- | --- |
| View more | We are looking for: |
Woodwind and brass instruments
| | |
| --- | --- |
| Buffet SENZO Alto Saxophone | China |

Senzo announces the rebirth of Buffet Crampon's professional saxophones. Senzo, which means ancestor in Japanese, combines Buffet Crampon's tradition of musical excellence with a sensual and modern approach.
Elegance Audio & Musical Instrument Company

| | |
| --- | --- |
| View more | We are looking for: |
| | |
| --- | --- |
| Ambest 365 Bb Clarinet | Taiwan |

Ambest 365 Bb Clarinet is our latest instrument, perfectly suited for advanced players, classical and jazz players alike. Made from unstained Grenadilla, it produces a warm and defined sound and is ergonomic and efficient!
Albest Musical Instruments Co Ltd
| | |
| --- | --- |
| Basson, Oboe and English Horn | Taiwan |

Considering budget, maintainence, tuning, stability and play friendly, used man made material, provided the best buy double reed instrument family.
CH & DH Ltd

| | |
| --- | --- |
| View more | We are looking for: |
| | |
| --- | --- |
| The New Super Jet tenor saxophone mouthpiece from JodyJazz | USA |

Designed for Smooth Jazz, Electric Jazz, Rock and Funk, the new JodyJazz SUPER JET Tenor is a contemporary sounding mouthpiece with more power, more edge, more altissimo and more volume. It is beautifully free-blowing with enough bottom in the sound to make it more versatile than other mouthpieces.
JodyJazz Inc.

| | |
| --- | --- |
| View more | We are looking for: |
Accessories and others
| | |
| --- | --- |
| NIKKO Standard #226 (Black) | China |

A classic product from NIKKO metronome collection and it is durable to use it.
Xiamen Ensign Culture Co Ltd

| | |
| --- | --- |
| View more | We are looking for: |
| | |
| --- | --- |
| Greenline violin case made from renewable natural fibers | Germany |

Our Greenline cases are made from renewable natural fibers - they are strong, break proof and protect against temperature fluctuations. Due to their lightweight design, the cases have an extremely low weight, are extremely shock-absorbing and manufactured in Germany.
Jakob Winter GmbH

| | |
| --- | --- |
| View more | We are looking for: |
Music Area RB30 Series guitar bag.
Ruby Industrial Co Ltd
| | |
| --- | --- |
| Proved by worldwide - OLYMPIA STRINGS | Korea |

As a leading producer of Musical instrument strings, OLYMPIA has proved its quality consistently over 30 years by cooperating with international major brands. By selecting the finest US steel wire, HQ series feature its bright and solid sound. Enjoy true sound that you want with OLYMPIA.
Olympia

| | |
| --- | --- |
| View more | We are looking for: |
| | |
| --- | --- |
| LR Baggs Synapse personal PA system | China |

The Synapse employs a unique, all-horn speaker design that projects a full 180 degree horizontal waveform at all frequencies, a groundbreaking compression woofer. The combination of compression, the horns, and the ultra-wide dispersion fills the room with a dynamically rich, natural sound.
Qingdao Guitar Square Trading Co Ltd

| | |
| --- | --- |
| View more | We are looking for: |
Contact us
Messe Frankfurt (HK) Ltd
Ms Angela Lau
| | |
| --- | --- |
| Tel: | +852 2230 9230 |
| Fax: | +852 2519 6079 |
| Email: | music@hongkong.messefrankfurt.com |