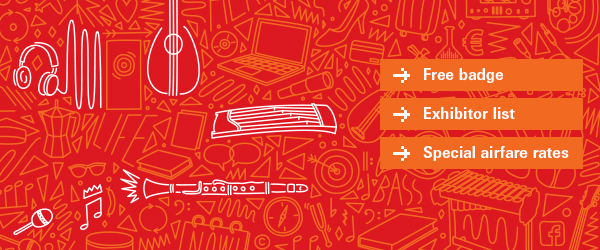 Your platform for sourcing musical instruments & accessories
Check out our product highlights and get a taste of what to expect from 10 to 13 October in the Shanghai New International Expo Centre. Over 2,300 industry manufacturers will join you on the fairground.
Exhibitor Search service is available
| | |
| --- | --- |
| Search exhibitors by product group, country, booth location and more. The best way to prepare your visit to Music China! | |
Product highlights
Explore your target exhibitors using the index below!
Agents
Dealers / Distributors
Joint Ventures
Retailers
Teachers & Musicians

| | |
| --- | --- |
| | Products that are new or being launched in Asia for the first time |
Featured exhibitor
Company: Hidrau Model, S.L.



Booth no: E2G18
Company: C.Bechstein Pianofortefabrik AG



Booth no: E3A12
Company: Miyazawa Flutes Mfg Co Ltd



Booth no: W1B18
Bowed instruments
| | |
| --- | --- |
| Ebony, blackwood, rosewood, maple for violins and guitars | Germany |

Karl Klier & Co has been following the family tradition since three generations. It provides wood for musical instruments: ebony for string instruments, guitars, fingerboards and pianos. Blackwood for clarinets, oboes, flutes and piccolos. Indian, Madagascar rosewood for guitars and fingerboards. Snakewood for bows. Finished, high-quality ebony fingerboards made in Germany for all string instruments.
Karl Klier & Co
| | |
| --- | --- |
| JXT Luminous String | Hong Kong |

Luminous strings have a single Germany filament steel core, wound with aluminium magnesium steel. With very bright sound and no metallic harshness. They are insensitive to variations in temperature and humidity, with outstanding tuning stability. Mainly suitable for students.
Dream Classic Music Factory

| | |
| --- | --- |
| View more | We are looking for: |
| | |
| --- | --- |
| Handmade production of string instruments made in Cremona - Italy | Italy |

Excellent stringed instruments with powerful and wonderful sound, entirely handmade according to the Cremonese tradition.
La Bottega Del Suono di Pasquale Sardone

| | |
| --- | --- |
| View more | We are looking for: |
| | |
| --- | --- |
| Violin, viola, cello | Italy |

The best fine violins, violas and cellos, handmade in Italy.
Tonarelli Daniele Master Violin Maker Cremona-Italy

| | |
| --- | --- |
| View more | We are looking for: |
| | |
| --- | --- |
| Delisle, master violinmaker | Italy |

A master violinmaker in Cremona, who builds string quartet instruments inspired by and faithfully following the traditional models of the Italian violin making school from 1500 to 1800.
DELISLE Bertrand-Yves

| | |
| --- | --- |
| View more | We are looking for: |
Violins made in Japan by skilled violin builders.
JAPAN Master Violinmakers

| | |
| --- | --- |
| View more | We are looking for: |
Electronic and electric instruments
| | |
| --- | --- |
| KORG B2 Series Digital Piano | China |

The B2 is a new generation of digital pianos from KORG, focused on accessibility and ease of use. B2 is packed with carefully selected sounds, starting with legendary grand pianos from around the world. Software and a variety of connectors come standard for a truly modern piano experience.
Acton Audio & Musical Instruments (Shanghai) Co Ltd
| | |
| --- | --- |
| Yamaha Guitar Amp THR30II WL | China |

Yamaha originated the "desktop amplifier" category and the THR30II Wireless takes the concept to new heights. Bluetooth support lets you wirelessly play your music through the hi-fi speakers, and sculpt your perfect tone with the mobile editor app. THR30II Wireless is fully wireless. Play wherever your music takes you with a Line 6 wireless receiver and built-in rechargeable battery.
Yamaha Music & Electronics (China) Co Ltd
DS Musical is a distributor of musical instruments by famous brands around the world, hoping to fulfil the needs for all kinds of musical tastes.
DS Musical
Bold and brash, the chest-thumping sound of this big-bodied acoustic was designed to be inspiring. From the moment you pick it up, it seems like it was designed for the stage.
Guangzhou FAST Musical Instrument Co Ltd
A seven string multiscale RGD series solid body electric guitar model introduced by Ibanez in 2019. It is produced in Indonesia as part of the metal focused Axion Label line.
GreatWall Musical Instrument Co Ltd
Fretted and stringed instruments
This DX Woodstock 50th Anniversary model includes colourful custom artwork by Robert F. Goetzl that replicates elements from the original, famed 1969 festival poster.
Acton Audio & Musical Instruments (Shanghai) Co Ltd
| | |
| --- | --- |
| Liuteria Cocopelli "Premium" classical guitar | Italy |

"Premium" is a new concept of classical guitars made by Simone Assunto, owner of Liuteria Cocopelli. The guitar is a traditional Spanish guitar, featuring a sculpted headpiece, an innovative arched top system, a raised and radiused fretboard and a unique sliding sound port on the left side.
Liuteria Cococpelli di Simone Assunto

| | |
| --- | --- |
| View more | We are looking for: |
| | |
| --- | --- |
| Fine concert classical guitars | Italy |

Handmade, fine concert classical guitars, inspired by golden age traditional classical guitars.
Coriani Paolo

| | |
| --- | --- |
| View more | We are looking for: |
The brand "Voyager Guitars" was created by Japanese guitar builder Kou Sakurai. His workshop is located at the southern end of the Izu Peninsula. He is inspired by the beautiful nature and produces high-quality guitars. This VA model has the most beautiful and refreshing tone.
LAST GUITAR INC

| | |
| --- | --- |
| View more | We are looking for: |
Handcrafted with traditional construction methods, these solid top guitars have the highest quality.
Guangzhou Altamira Musical Instrument Co Ltd

| | |
| --- | --- |
| View more | We are looking for: |
CATE Guitar QM-814PO peacock home single board guitar.
Anhui Cate Acoustic Guitar Factory

| | |
| --- | --- |
| View more | We are looking for: |
Ramis acoustic guitar for fingerstyle. The model is FC25 with AA European spruce or AA Santos Rosewood.
Ramis Cultural Development Co Ltd
DeerRidge Guitars desires to provide professional instruments to musicians, at affordable ranges. Having learned from Master Builders like John Carruthers, the legendary luthier, their team is passionate and committed to build guitars with vintage tone and modern playability!
DeerRidge Guitars

| | |
| --- | --- |
| View more | We are looking for: |
Percussion instruments
| | |
| --- | --- |
| Odery Drums handmade in Brazil | Brazil |

Since 1991, ODERY drums craftsmen have made thousands of dreams come true.
Odery Drums Brazil

| | |
| --- | --- |
| View more | We are looking for: |
With a strict material selection and the greatest care during manufacturing, they produce this superb marimba, using all their design skills and effort. For a sonorous and luscious tone from bar to bar, being conscientious to the details, ensuring that the intonation is perfect throughout the five-octave range.
Jinglun Music Co Ltd

| | |
| --- | --- |
| View more | We are looking for: |
Pianos and keyboards
SK132ME contains a selectable sostenuto pedal, rich in sound, and it is completely possible to play together with concert grand pianos.
Seiler Samick Musical Instrument (Shanghai) Co Ltd

| | |
| --- | --- |
| View more | We are looking for: |
| | |
| --- | --- |
| Spinx Golden Piano | Germany |

The piano is made as per the "Spinx Gloden Piano" of
C. Bechstein, which was launched in the 20th century. There are only two pieces in the world.
C. Bechstein Pianofortefabrik AG
| | |
| --- | --- |
| 100 years antique John Broadwood grand piano | Malaysia |

A very rare, antique grand piano owned by renowned German composer Julius Benedict.
Kensington Music Pvt Ltd

| | |
| --- | --- |
| View more | We are looking for: |
Woodwind and brass instruments
| | |
| --- | --- |
| NIE Er Music Collection I for Band | Hong Kong |

NIE Er Music Collection I for Band contains three adaptations arranged by three famous Chinese composers, Newspaper Seller by Simon Yau Yuen-hing, Dance of Golden Snake by LI Chan and Recitative of Mei Niang by CHEN Qian.
JC Link (HK) Limited

| | |
| --- | --- |
| View more | We are looking for: |
Miyazawa was established in 1969 and its 50th anniversary limited edition flute is launched to celebrate this precious moment.
Miyazawa Flutes Mfg Co Ltd
| | |
| --- | --- |
| Oboe S. Bulgheroni Clarinet Gordèe | Italy |

Atelier Bulgheroni supports the long tradition of the Bulgheroni's family. They make woodwind instruments and their target is to improve the homogeneity and the quality of the sound. They also manufacture special Endpins for bass clarinets.
Atelier Bulgheroni
| | |
| --- | --- |
| Patricola handmade woodwinds | Italy |

Italian handmade clarinets & oboes.
PATRICOLA

| | |
| --- | --- |
| View more | We are looking for: |
| | |
| --- | --- |
| P. Mauriat PCL-721 | Taiwan |

Based on years of research and experience. Made with premium Grenadilla wood and the highest craftsmanship, it is a professional instrument with a focused and rich tone. They strive to bring you an excellent instrument that has an event response and great intonation, yet at a budget-friendly price.
Albest Musical Instruments Co Ltd

| | |
| --- | --- |
| View more | We are looking for: |
| | |
| --- | --- |
| Bb closed hole clarinet | China |

Clarinet's Plateau (covered) keys are specifically designed for the younger player or anyone who may have difficulty covering the standard open hole ring keys. The Hunter clarinet comes with case, mouthpiece, cap and ligature, and care products.
Hunter Music Instrument Inc
Accessories & others
| | |
| --- | --- |
| Violin shaped case, greenline JW-51015-4/4-ALICE | Germany |

Lightweight build and optimised for easy carrying. Material technology from renewable, natural fibres. Resistant, shock absorbing hard cover. Water repellent and weather resistant. Backpack system with 2 carrying straps. Inside lining consists of high-quality, eco-friendly cotton velvet.
Jakob Winter GmbH

| | |
| --- | --- |
| View more | We are looking for: |
| | |
| --- | --- |
| Compact violin cases/GLQ-V series | Taiwan |

Perfect for people who ride a bicycle or use public transport. The exterior is made of polycarbonate/genuine Italian leather, while the interior consists of the latest foam cushioning material with vibration absorption. It is insulated and anti-twist.
GL Cases Ind Co
| | |
| --- | --- |
| Proved by worldwide OLYMPIA STRINGS | Korea |

As a leading producer of musical instrument strings, OLYMPIA has proved its quality consistently over 30 years by cooperating with major international brands. By selecting the finest US steel wire, OLYMPIA STRINGS get a more brilliant tone and sound. OLYMPIA STRINGS can give you the true sound that you want.
Olympia

| | |
| --- | --- |
| View more | We are looking for: |
| | |
| --- | --- |
| High-quality abrasive cloth & paper | China |

This company provides professional grinding process consultation and suggestions for the musical instrument industry. From white-body grinding to polishing, their professional, high-quality grinding procedures have been recognised by many national musical instrument brands.
Guangzhou Shilong Trading Co Ltd

| | |
| --- | --- |
| View more | We are looking for: |
Contact us
Messe Frankfurt (HK) Ltd
Ms Angela Lau
| | |
| --- | --- |
| Tel: | +852 2230 9230 |
| Fax: | +852 2519 6079 |
| Email: | music@hongkong.messefrankfurt.com |