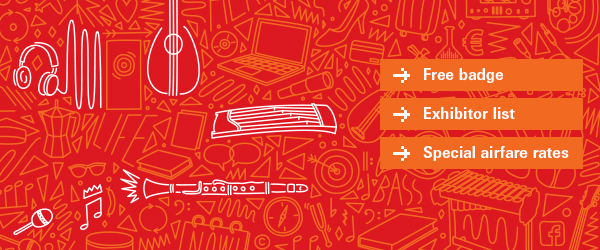 Discover the latest MI industry trends and connect to over 2,300 expected suppliers
Asia's leading music trade show is back and ready to welcome you in Shanghai from 10 to 13 October. This edition will be our biggest ever. That means you can expect an even more diversified spectrum of products in no less than 13 halls, covering 145,000 sqm of exhibition space. Not to mention the business and networking opportunities that come along with meeting over 2,300 suppliers and industry professionals. We think it's time to face the music. Be sure to join us for four days of music celebration!
Product highlights
Explore your target exhibitors using the index below!
Agents
Dealers / Distributors
Joint Ventures
Retailers
Teachers & Musicians

| | |
| --- | --- |
| | Products that are new or being launched in Asia for the first time |
Featured exhibitor
Company: Hidrau Model, S.L.



Booth no: E2G18
Company: C.Bechstein Pianofortefabrik AG



Booth no: E3A12
Company: Miyazawa Flutes Mfg Co Ltd



Booth no: W1B18
Accordions & harmonicas
| | |
| --- | --- |
| Harmonica, Recorder, Melodyhorn, Glockenspiel | Korea |

Next to high-quality musical instruments that are used in schools, Dabell also manufactures tremolo and diatonic harmonicas in Korea.
Dabell Co Ltd
Bowed instruments
| | |
| --- | --- |
| Handmade silver and gold bows. Special editions available on request | Italy |

Ponce Bows is a workshop in Cremona owned by awarded Master Bowmaker Arturo Ponce, known for his high-quality bows with excellent workmanship, top-quality materials and a unique style. His products are highly appreciated by professional musicians all over the world.
PONCE Bows di Arturo Ponce Morone

| | |
| --- | --- |
| View more | We are looking for: |
A handcrafted violin in the tradition of the Cremonese master violinmakers, for professional musicians who require the best sound and comfort when playing. With the best wood selection and fittings, this instrument is a great choice for any soloist.
Erli Gurra

| | |
| --- | --- |
| View more | We are looking for: |
Electronic and electric instruments
| | |
| --- | --- |
| Yamaha Keyboard PSR-SX900 | China |

New digital and arranger workstation, satisfying all your needs when creating music.
Yamaha Music & Electronics (China) Co Ltd
| | |
| --- | --- |
| Studiologic Numa Compact 2: big sound in a compact size | Italy |

In a compact and lightweight cabinet, Fatar has integrated a new technology derived from high-quality professional keyboards. Studiologic Numa Compact 2 is a big step forward in terms of sound quality, digital post processing effects and MIDI controller features. The built-in speakers and the internal digital amplifier make it suitable for any musical.
FATAR SRL

| | |
| --- | --- |
| View more | We are looking for: |
| | |
| --- | --- |
| MERISH5 – the live machine | Italy |

One single instrument that provides everything you need to play and sing at top level. Merish5 sets the benchmark among the stand alone devices designed for reading, archiving and playing digital Backing Tracks. It plays Midi Files, Mp3, Multitracks and Video files.
M-LIVE srl

| | |
| --- | --- |
| View more | We are looking for: |
The Platform Nano is a MIDI control surface for producers, engineers, musicians and home studio enthusiasts who want hands-on control of their modern "in the box" digital music production with a small footprint.
Icon Proaudio Digital Limited

| | |
| --- | --- |
| View more | We are looking for: |
The CD-60S is one of their most popular models and ideal for players who are looking for a high-quality, affordable dreadnought with great tone and excellent playability.
Guangzhou FAST Musical Instrument Co Ltd
Fretted and stringed instruments
| | |
| --- | --- |
| Salvi Harps: Excellence and reliability to the World since 1955 | Italy |

When Victor Salvi assembled his first harp, he was already a well-established harpist. A masterpiece of research and craftsmanship, every Salvi harp is manufactured with materials from Fiemme Valley, the same precious wood used for Stradivari's violins.
SALVI HARPS - NSM Spa

| | |
| --- | --- |
| View more | We are looking for: |
| | |
| --- | --- |
| E5 style (Embergher 5 bis style) modern concert mandolin | Italy |

This is a modern concert mandolin, inspired by Embergher style. There are 32+2 flamed maple ribs and the soundboard is made of fine Italian spruce, with an ebony/bone pickguard, and neck and headstock in flamed maple. The ebony fingerboard has 29 frets with a handmade, nickel silver tailpiece. This mandolin has custom Alessi machine-heads, a soundboard with oil matte finishing, and body and neck with amber oil varnish finishing.
Federico Gabrielli
| | |
| --- | --- |
| Corbin Musikmeister | China |

Manufactured in Germany and made from German spruce, Italian cypress and Indian rosewood, with a bright sound and simple, stylish details.
Foshan Nanhai Mingde Musik Ltd
New launch of SHUBB C1g-Rose.
Qingdao Bei Fang Yuan Musical Instruments Co Ltd
Le Guitar was developed with the intention of sharing joy with both the guitarist and his listeners. The clean and simple design on the body looks like a smiling face, as if it is sending greetings.
L. Luthier Sdn Bhd

| | |
| --- | --- |
| View more | We are looking for: |
| | |
| --- | --- |
| AdamCHAN Guitars Singapore | Singapore |

AdamCHAN is a Singapore manufacturer who designs and builds refined acoustic guitars in Singapore.
ADAMCHAN GUITARS

| | |
| --- | --- |
| View more | We are looking for: |
Ortega guitars are made in an amazing way and with extraordinary materials. The 25th anniversary model was made with the highest precision and features a maple fingerboard for a unique look.
Ortega Guitar

| | |
| --- | --- |
| View more | We are looking for: |
Music Education
| | |
| --- | --- |
| Cadeson Drums and Teaching System | Taiwan |

Since 1985, Cadeson Group has produced professional percussion instruments, including drums, orchestra instruments, accessories and saxophones. Since two years, they also have a top teaching system, including the Orff-Schulwerk teaching method, and a percussion ensemble.
Cadeson Music / Percle International
Percussion instruments
Ningbo Shenyou Musical Instruments Co Ltd is a manufacturer of drums and jazz drums. Their product range also includes drums with built-in silencers.
Ningbo Shenyou Musical Instruments Co Ltd
| | |
| --- | --- |
| Starclassic Walnut/Birch | China |

Hybrid Shell Walnut/Birch: combining the superior quality, warmth and mid- to low-frequency tone of the truly unique Walnut, with the well-defined and uncompromisingly solid attack of Birch.
GreatWall Musical Instrument Co Ltd
Pianos and keyboards
| | |
| --- | --- |
| Fazioli - Purely conceived and made in Italy | Italy |

FAZIOLI has designed and produced grand and concert pianos in its factory in Sacile since 1981. The six Fazioli models (from 156cm to 308cm) are handcrafted with the best materials, finest workmanship and technology.
Fazioli Pianoforti SPA

| | |
| --- | --- |
| View more | We are looking for: |
| | |
| --- | --- |
| Carl Johann CJ170G-PR Designed by SAUTER Grand Piano | China |

Black, polished veneer with a precious wood texture offers a graceful and luxurious feeling. The classic European style also brings refinement and elegance. In addition, the beautiful, harmonious and powerful sound makes it comparable to a real concert grand. It is a perfect instrument for your music imagination and inspiration.
Acton Audio & Musical Instruments (Shanghai) Co Ltd
| | |
| --- | --- |
| Continuo pipe-organ from the future by Pecs Organ Manufactory Ltd | Hungary |

Modern solutions combined with traditional sounding: continuo pipe-organ from the future. Modular construction, reduced weight, easy to assemble and scalable for higher performance. Convertible for unique design. Design your own sound, they provide the modules!
Pecs Organ Manufactory Ltd
The 170th anniversary model of Seiler contains traditional handwork as well as a marvellous cabinet. Seiler stayed true to 170 years of artwork and craftsmanship.
Seiler Samick Musical Instrument (Shanghai) Co Ltd

| | |
| --- | --- |
| View more | We are looking for: |
Woodwind and brass instruments
| | |
| --- | --- |
| Yamaha Xeno Artist Model Trumpet | China |

Based on expertise gained through in-depth research into vintage instruments that are considered masterpieces and development support from world-class artists, the latest models offer updated appeal, with refined performance and playability.
Yamaha Music & Electronics (China) Co Ltd
| | |
| --- | --- |
| Keilwerth ST118 alto saxophone | China |

The Keilwerth ST118 alto saxophone has improved sound and quality.
Elegance Audio & Musical Instrument Co
| | |
| --- | --- |
| Versailles 90 series Saxophone | Taiwan |

The Versailles 90 series features 92% copper with pisoni pro pads and engraved flowers on its full body. The series is handcrafted and the most excellent saxophone of Château.
Tenon Industrial Co Ltd

| | |
| --- | --- |
| View more | We are looking for: |
| | |
| --- | --- |
| A-803, alto saxophone (soldered tone-hole) | Taiwan |

Recommended to players who have already learned saxophone for a period of time and prefer a penetrating and resounding sound. This model can produce the saxophone's unique, bright sound due to transparent lacquer with 92 copper. The saxophones have less welded area, which can result in a more clear and bright tone.
Aidis Flute & Musical Instruments Co

| | |
| --- | --- |
| View more | We are looking for: |
| | |
| --- | --- |
| New SUPER JET Baritone and Soprano Saxophone Mouthpieces | United States of America |

The new SUPER JET Baritone & Soprano models are the ultimate contemporary-sounding mouthpieces with a distinctive and powerful sound. Offering strong projection and a bright powerful tone, these new SUPER JET mouthpieces are ideal for the player looking for more edge and the ability to cut through louder music.
JodyJazz Inc

| | |
| --- | --- |
| View more | We are looking for: |
Accessories & others
| | |
| --- | --- |
| Hidrau Tech piano bench | Spain |

The Hidrau Tech piano bench is a piano stool for professionals. The height is adjusted automatically by turning the knob just 30°, which is the Hidrau Tech mechanism. It combines an elegant, classic look with comfortable, effortless adjustment, which a pianist needs for the very best musical interpretation & performance.
Hidrau Model, S.L.

| | |
| --- | --- |
| View more | We are looking for: |
| | |
| --- | --- |
| BAM Erhu Case and Pipa Case | France |

"We Care for Your Instrument" - BAM has brought French elegance from signature string instrument cases to traditional Chinese instruments this year. Starting with Erhu and Pipa cases, BAM's slim yet fully functional cases offer outstanding protection and ultra-light weight for musicians to carry on the tradition in style.
BAM

| | |
| --- | --- |
| View more | We are looking for: |
The waterproof coating on the surface and PVC coating on the opposite side effectively prevent rain or water infiltration into the case.
Dong Guan Music Area Co Ltd

| | |
| --- | --- |
| View more | We are looking for: |
| | |
| --- | --- |
| Kirlin premium PVC-woven instrument cable | China |

IPW is the new addition of Kirlin Cable's Premium Plus series. With a clear PVC wrapping over a thin layer of bright, solid colour woven nylon, this cable will stand out from the crowd.
Changzhou Kirlin Cable Co Ltd
| | |
| --- | --- |
| KSA8500 Deluxe Keyboard Tier | China |

Fits for any keyboard stand with 1" or 30mm, round or square tubing, including On-Stage Z stands. 2 sets of supporting arms can hold a second keyboard, or a combination of laptops and other DJ equipment.
The Music People Inc

| | |
| --- | --- |
| View more | We are looking for: |
Contact us
Messe Frankfurt (HK) Ltd
Ms Angela Lau
| | |
| --- | --- |
| Tel: | +852 2230 9230 |
| Fax: | +852 2519 6079 |
| Email: | music@hongkong.messefrankfurt.com |